Welcome to our Wellness / Cosmetics / Spa area
"Spoiled heavenly" – you will be spoiled by our professional team in the wellness area.
Experience an extraordinary oasis of well-being. We take you on a journey to one-of-a-kind relaxation.
Enter our world of beauty and well-being…
New and well-proven treatments and products from the Bergknappenhof
Escape the hectic rush of the daily grind and pamper body, mind and soul. Experience an extraordinary oasis of well-being and allow us to take you on a journey to one-of-a-kind relaxation and wellness.
We are looking forward to your appointments!
Wellness reception
available at + 49 09924-774774
Open daily from 09:00 am to 06:00 pm
Closed for lunch from 02:00pm to 02:30 pm
We upgraded our vitality & wellness area and extended our offers for you.
Special ayurvedic treatments, thalasso treatments, aroma oil therapy massages or healing earth packages are also part of our program. Specific treatments for face, body and soul can be experienced in a relaxed atmosphere.
Floating venus shell
Feel the sensation of being weightless in this superior bath experience for body, mind and soul. Float in the body warm saltwater (25% salt) and feel like spending a vacation at the dead sea.
Recommended treatment for
• Stress relief and increased and prolonged resilience in everyday life
• Improved circulation
• Release of acute and persistent tensions
• Relaxation during pregnancy
• Pain relief for herniatic disc, sciatica and lumbago
• Tissue firming
• Boosting metabolism
• Relief for skin diseases… and many more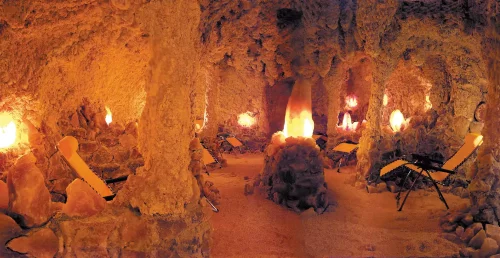 Himalayan salt grotto
In this fascinating salt grotto we used 20 tons of Himalayan salt creating a micro climate which can only be compared to the climates at the sea or Salinas.
• Chronic inflammation to the nose, throat and larynx
• Bronchial asthma
• Pneumoconiosis
• Chronic bronchitis
• Skin diseases (psoriaris, dermatitis)
• Emotional distress, debility
• Thyroid diseases
Egyptian Sand Relaxation Room
The Egyptian sand room is the ideal place to relax after your treatments.
Enjoy the flair of the egyptian design and interior.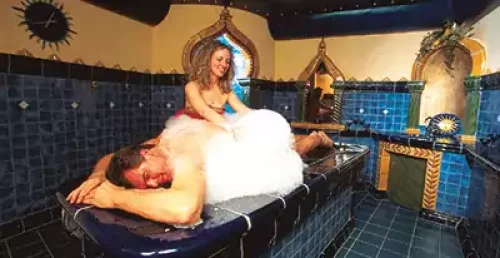 Hamam massage room
Thousands of years ago already the Greek, Indians, Persians and Chinese knew of the healing powers of the hamam massage – whether you want to benefit from it to ease illnesses or to simply feel better.
Rasul Steam Bath
The rasul bath is an ancient egyptian version of the steam bath.
Healing earth, algae and chalk is applied to the body. Slowly the temperature rises and herbal steam fills the room.
The rasul bath is known to stimulate circulation and improve the immune system.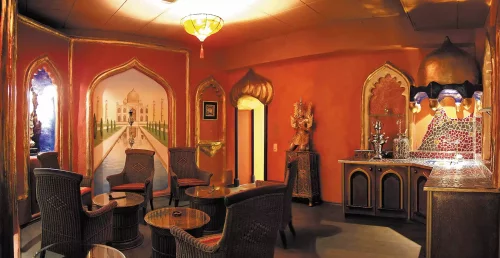 Indian Tea Temple
The oriental flair, a large variety of teas and our love to detail invite to take a moment to linger before or after you treatments and enjoy a steaming hot cup of tea.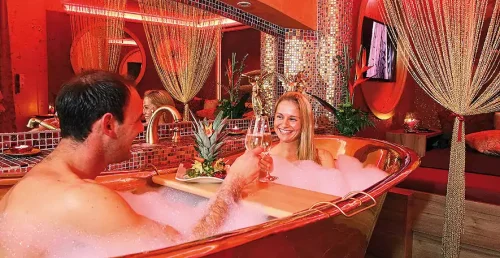 The Emperor's bath at the Bergknappenhof
Tingling seduction at the oasis of senses.
Bath in the emperor's tub (approx. 30 mins) with fruits, "Kristallsecco" & sweet treat followed by an hour to cuddle.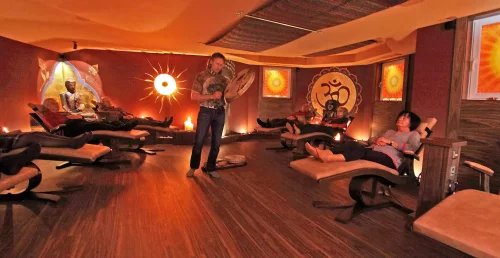 Indian Meditation Room at the Bergknappenhof
What's the drum journey?
Make yourself comfortable in our protected room which is traditionally smoked with sage and sweet grass.
Carried away by the sound of a drum we are slipping into a state of deep relaxation and our mind travels away on a guided journey.
Every shamanic drum has two different tonal sounds. The deep "earth tone" relaxes the body and musculature. Similar to the singing bowls the body starts vibrating on the same frequency of this deep tone causing a deep relaxation.
The higher "overtone" carries the thoughts and spirit.
If we follow this overtone our spirit has the ability to move above the "fixed point of perception" onto the "second reality" which frees up troubling thoughts and blockages of the mind and "Qi" – life energy – can flow again naturally. Through this experience it is possible to bring back energy, power and recovery to your body but also solve psychological and spiritual blockages.
The first part of the relaxation journey is guided while the second part allows for you mind to travel freely. The hour comes to an end by being guided back collectively and breathing exercises.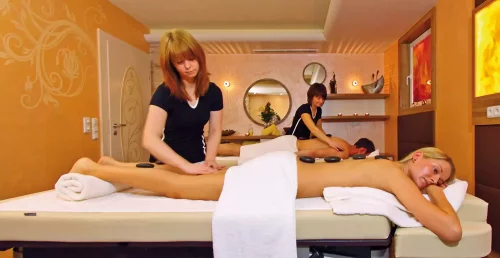 Time for Two at the Bergknappenhof
Hot Stone
Feel the soothing and warm energy of these million-years-old stones flow through your body, feel how your body relaxes and loosens. Your senses get spoiled and your skin is caressed with rich oils leaving it smooth and supple.
Massage Jacuzzi Tub
Savor the unique experience of the 290 massage jets in our massage Jacuzzi tub.
The air and water massage in the "Hydroxeur" eases tensions, firms the skin, stimulates the lymph, decreases cellulite, rheumatism and arthritis and is just pure pleasure for body and soul.
Treat yourself to recreation, relaxation and regain strength!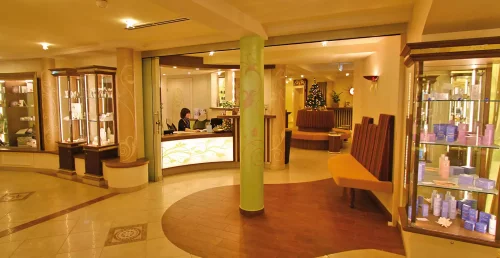 Wellness-Shop at the Hotel Bergknappenhof
Vitality & Wellness Shop
• large selection of cosmetics including beauty and care consultations: Gertraud Gruber cosmetics, Thalgo cosmetics
• in-house cosmetics & perfume selection
• Manicure & pedicure products, essential oils, bath salts
• Jewelry, Salt Products
• Stunning gift ideas and much more